The new Pet Shop Boys single "I'm With Stupid" which mocks the relationship between George Bush and Tony Blair, is one of their best sounding tracks in years.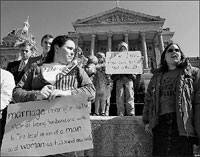 Between 200 and 1,000 hateful Iowans showed up at the Capitol in Des Moines in support of an amendment that would ban gay marriage. The good news? About two dozen high school students showed up to counterprotest. The organizer of that counterprotest, high school senior Robert Martin, told the Des Moines Register that the amendment "is really about slowing the trend. In the future, people (will be) more willing to accept gay marriage."

The President of Taiwan is obsessed with Brokeback Mountain. After his recent comments comparing Taiwan's relationship with the U.S. to that of the two ranch hands, President Chen Shui-bian has done it again with regards to his country's relationship with the tiny Pacific nation of Nauru.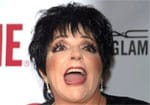 Liza Minnelli resurrects Emmy-winning 1972 concert special: "With all the attention Liza With a 'Z' is getting, I feel like I've come home again," said the woman at the centre of everyone's attention. "This is what I love doing – the dancing, the singing. This is the kind of work I always loved doing. This is where I belong."

Ambien linked to midnight food foraging: "The next morning, the night eaters remember nothing about their foraging. But they wake up to find telltale clues: mouthfuls of peanut butter, Tostitos in their beds, kitchen counters overflowing with flour, missing food, and even lighted ovens and stoves. Some are so embarrassed, they delay telling anyone, even as they gain weight."

TAB: Beckham look-alike making bucks as a hustler: "I am straight but I get a lot of gay guys contacting me. Beckham is a gay icon. A couple of potential clients have put money into my account. I wouldn't have sex with them but I would act as a dominator and they would be the slave. I would charge £150 a time. I think because I am straight that makes them want me more."