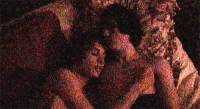 The administrators at West Linn High School, where Brandon Flyte was "expelled" for airing his school project video Brokeback High have backpedaled on their decision to oust the student from classes and transfer him to a community college.
From Brandon's site: "They reiterated to me the fact that this was never called an expulsion. In their eyes, transferring me to CCC was in my best interest. The fact that this transfer was mandatory is what I've been protesting. They said that given my attendance record and how "things didn't seem to be working [at WLHS]", regardless of my last report card (which is the best I've ever done in high school), they thought that moving me to another school was for my benefit. The school insists that my 'transfer' was never the result of homophobia, but either way, it seems clear that they've had a change of heart regarding my situation. The school has agreed to allow me back in and graduate with my classmates this Spring, provided that I have the credits I need and that my attendance is solid. I appreciate all the support I've recieved from everyone. If we can continue showing this kind of support and unity, equality will win it in the end."
I received an email from Brandon today thanking Towleroad and its readers for the support. So, thank you all.
While it's hard to believe their explanation for transferring Brandon, the good news is, word got out, the administrators felt the heat, and ultimately did the right thing. Let's hope it made them realize that bigoted values won't be tolerated.
High School Student Expelled for Brokeback High Movie [tr]