Chip, chip, chip away…The sneaky Bush administration last year quietly revised a few rules regarding national security clearances. They removed language saying sexual orientation "may not be used as a basis for or a disqualifying factor in determining a person's eligibility for a security clearance." The administration denies, however, that anything has changed. (via americablog)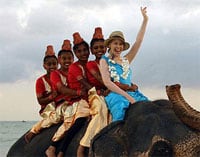 Kylie Minogue making a comeback from cancer.

Candidate for State Senate in Maryland, Jamie Raskin, testified against Maryland's anti-gay marriage amendment earlier this month. His remarks are refreshing to say the least: "Doctors don't even know how to keep grown heterosexual men, like our State Comptroller, from ogling young women in public. Do you really think they can turn millions of gay men and women into straight people? When all of the scientific and anecdotal evidence we have suggests that our sexual orientation is simply part of us, like our hair color, the decision to rope off marriage–an institution that carries hundreds and hundreds of legal and governmental benefits and privileges–from certain groups of people based on their sexual orientation can be described as nothing more than cruel and irrational discrimination."

Amid threats of lawsuits, newspaper backtracks on footballer Ashley Cole's involvement in a gay sex orgy.

Lee University is next stop for Soulforce Equality Riders. Arrests have been made at their first two stops, Regent and Liberty Universities. President Paul Conn is encouraging civility: "Although it's evident to us that Soulforce is using Lee University as a platform for media coverage, I have strongly urged our students and staff to maintain an environment of civility and Christian kindness."