STUDY: Rich white Republicans who worship a lot, have the legal right to marry, and live in the Sunbelt are happier than everyone else. No wonder George Bush is always so damn pleased with himself.

Cincinnati City Council overwhelmingly approves protection from discrimination to gay and transgender citizens.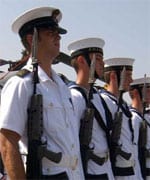 England can handle the truth! The British Royal Navy will most likely have an "overt service presence" in London's EuroPride parade on July 1st. Vice Admiral Adrian Johns expected to make announcement: "A significant number of Royal Navy lesbian and gay personnel … are keen to give a strong personal signal that the Royal Navy is an inclusive employer of choice that welcomes and actively champions diversity in its workforce…Our mission is to break down barriers of discrimination, prejudice, fear and misunderstanding…Not only is this morally right, it is also for us in a fighting force the best way to deliver maximum operational effectiveness."

Beer gut no longer seen as macho. I'd say it depends on who you ask.

Roger Ebert gives an extensive interview to AfterElton on the Crash/Brokeback Oscar saga, discussing in detail what he believes to be the reason the most honored film of the year failed to grab the most important prize of the year.