Conservative Jewish leaders considering ending ban on gay rabbis and same-sex unions. Rabbi: "There are those who are saying, don't change the halacha because the paradigm model of the heterosexual family has to be maintained. On the other hand is a group within the movement who say, look, we will lose thoughtful younger people if we don't make this change, and the movement will look stodgy and behind the times."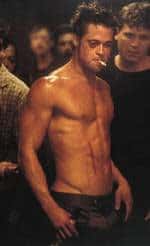 RUMOR: Brad Pitt considering role in The Front Runner.

Hush: Southeast Ireland gets its first gay bar in Waterford.

Ptown uproar: Don't mess with our fireworks. Resident: "When you think of P-town, here's a town that's self-governed, very much a piece of traditional American democracy, supporting personal rights and fun. We were totally blindsided. [July Fourth fireworks] are such a piece of Americana, such a tradition; for that to go away brings tears to my eyes."

Madonna says that her kiss with Britney Spears caused her daughter Lourdes to become concerned that folks were saying her mommy was gay. What did Madonna tell her? "I am the mommy pop star and she is the baby pop star. I am kissing her to pass my energy on to her."

Official report to rule Diana's death an accident.

One of L.A.'s first openly gay judges, Robert Sandoval, is dead at 56: "He was a pioneer in the sense of being open about being gay and enjoying his work and not suffering any discrimination."

TAB: Kylie Minogue to make December comeback in front of 20,000 at the Sydney Superdome. The show will be her first since her breast cancer diagnosis last May.