The California State Supreme Court ruled today that a Berkeley Marina had the right to revoke free berthing privileges to the Boy Scouts of America because the Scouts' policies violate Berkley's anti-discrimination laws. Said Scouting spokesman Bob Bork spun the defeat: "This is another in a continuing legal backlash against the Boy Scouts for asserting and winning its constitutional rights in the United States Supreme Court."

Gay man fatally stabbed 17 times in Sagay City, Philippines after he allegedly engaged in a transaction for sex with his attacker.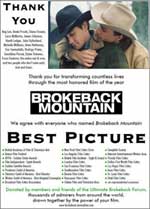 Brokeback fans say "thanks" in Daily Variety; raised $16,000 to place full page ad.

Courageous 12-year-old Michael Gulliford-Green visited Florida's state capital on Thursday with a family portrait of his two dads and lobbied lawmakers in favor of gay adoption: "Three years ago, I was adopted by two gay men who are my parents now. I just want to get rid of this ban that was set 30 years ago and affects our family and a whole lot of families." He was adopted by Buddy Gulliford and Jim Green and chose to take the couple's last names as his own.

The granddaughter of Benito Mussolini showed that ugly genes run in the family on Thursday when drag queen parliamentary candidate Vladimir Luxuria criticized fascism. Said Mussolini: "Better to be a fascist than a faggot."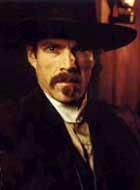 Dennis Quaid says he had "manorexia" in the 90's after losing a lot of weight for Wyatt Earp: "My arms were so skinny that I couldn't pull myself out of a pool. I'd look in the mirror and still see a 180-pound guy, even though I was 138 pounds. For many years, I was obsessed about what I was eating, how many calories it had, and how much exercise I'd have to do."

Zimbabwean President Robert Mugabe, who recently threatened to arrest and jail any clergy who performed same-sex marriage ceremonies in that country, has accused British gay activist Peter Tatchell of orchestrating a coup attempt from within the Zimbabwean Freedom Movement, an organization Tatchell spoke of last year in London.

New Zealand now accepting sperm donations from gay men.

Austrian pornographer faces deportation from Ghana after authorities catch him "engaging in homosexual activities" in an Accra hotel.