Jury begins deliberations in Provincetown strangling murder trial.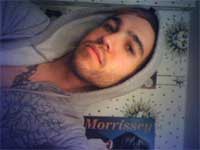 Pete Wentz of the band Fall Out Boy falls out of his pants.

California City of Los Altos hits out at gay youth: "The city recently denied the Los Altos High School Gay/Straight Alliance's request for a declaration of a Gay Pride Day in the city. The council went one step further and added language to an existing rule that prohibited hate speech based on race, religion, gender and sexual orientation. The new language they added to this section did not exclude a different kind of hate speech but instead specifically precluded discussion about issues involving sexual orientation, and in particular, bringing to the council issues involving Gay Pride Day."

ABBA reuniting for the first time in ten years to offer support to the oppressed gays in Poland. Unfortunately they're only coming together to sign autographs.

Vin Diesel loves his biceps, I mean, the Kryptonics.

New species of impaired motorist hits the road: the Ambien driver.