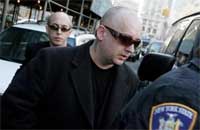 Boy George agreed to enter a drug rehabilitation program and perform community service in a deal that will spare the singer any jail time. George must also pay a $1,000 fine and avoid arrest over the next six months. The drug rehab will take place in England and the community service in Manhattan.
George released this statement: "I am relieved and happy that this case has been disposed of, and would like to thank the judge, the district attorney and my attorney, Lou Freeman, for the fair and speedy way it was dealt with. I love New York, and am looking forward to coming back and working in the states later this year."
The singer's manager Jeremy Pearce said he hopes to have George put on a concert for AIDS research in order to fulfill his community service obligation.
Previously
What a Long Strange Trip it's Been [tr]