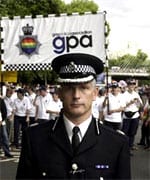 Openly gay Deputy Assistant Commissioner Brian Paddick, who became the public face of London's police force following the transit bombings last July, says he is being made the fall guy over the mistaken shooting of Brazilian Charles de Menezes at Stockwell tube station. According to Pink News, "Mr Paddick believes he is being accused of lying after the Met said that rumours of a senior officer knowing Mr de Menezes was wrongfully shot just six hours after his death were untrue."

REPORT: Music manager Sandy Gallin in "Don't you know who I am?' parking rage. Gallin rep Simon Halls: "It doesn't sound at all like Sandy to me."

UK EXPERTS: Ten-year-old children now coming out as gay.

The truth behind Grand Ayatollah Ali Sistani's fatwas against gays?

Film doc seeks to take the pin-up out of Beckham: 'We don't want to do it in a tabloid way. It's about his career and his life. I think many celebrities come to a point when they want to stop being poster-boys and show the public a side they haven't seen before.'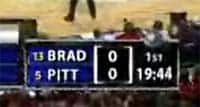 Unique Sunday game schedule gives Brad Pitt some free PR.

British Museum's first Michelangelo exhibit in 30 years has broken all ticket sales records. It features 90 drawings and opens this Thursday. Curator: "Michelangelo would have hated this exhibition. He wouldn't have wanted us to understand how he worked. He wanted us to go into the Sistine chapel and be amazed."