The government of the Czech Republic has legally granted rights to same-sex couples. A new law will allow same-sex couples to have inheritance rights, as well as the right to raise children. The country will not allow gay couples to adopt, however. The law was passed in parliament and overturned a veto by Czech president Vaclav Klaus, who called the law "a defeat for all of us who believe that the family in our society is fundamental, unique, unrivalled".

Czech Republic tallies record number of new HIV cases…

Clay Aiken spotted at Candyshop, a gay club in Prague.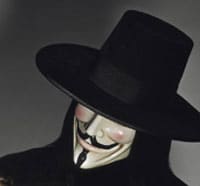 V for Vendetta paints the picture of a world turned upside-down: "The futuristic setting is Britain in about 2020, where a totalitarian regime that rules through fear of terrorist attacks has carted off gays, Muslims and political dissidents to internment camps for medical experiments."

A battle for inheritance rights for gay couples is on in South Africa as Mark Gory, whose partner died without leaving a will, asks the Pretoria High Court for the rights to his estate. Gory has no signed documents or domestic partnership agreement, and gay marriages do not come into effect in that nation until December 2007.

The Illinois Family Institute using a "tired, right wing strategy" to block those with HIV from attending the Gay Games in Chicago this summer. The Dept. of Homeland Security and Mayor Daley lifted the ban on HIV travelers as an exception for the Games. IFI Executive Director: "The people of Chicago should know we have a ban on HIV travelers, it's there to protect citizens, and it's not a wise move to remove the ban…These bathhouses can be very dangerous when you invite HIV in with an exception. The doors are closed, and you don't know what's going on inside. That shows there's much more going on than just playing softball. . . . They're celebrating homosexuality and the more unseemly aspects of it." A Gay Games spokesman responded to LaBarbera's hysteria: "The Illinois Family Institute strategy is to paint the Gay Games as nothing more than a series of stereotypes of gay sex. It's a strategy that's not true. It's a sports and culture festival, and no amount of stereotypes and bigotry can change that."

Ohio Democratic State Senate candidate Merrill Kaiser says Elton John and Mary Cheney "worthy of death" for being homosexual.