West Hollywood may soon have a third gigantic Playskool block erected in the middle of it: "So it took 30 years but the Pacific Design Center is finally fully leased and ready to move forward with a third building, intended from the beginning but never developed….According to Christopher Hawthorne, the addition of a third building is a watershed moment for LA architecture, as we move from solitary landmarks to 'ensemble architecture.'"

Katie Holmes hospital birthing poster revealed.

CNN: How Alcohol Works.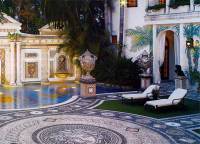 Make your reservation now: "The members-only club of Casa Casuarina in South Beach, formerly the mansion of slain designer Gianni Versace, is now open to the public – for a price. Telecommunications mogul Peter Loftin, who bought the three-story palace in early 2000, is allowing nonmembers to stay in the Gianni Versace suite or the duplex suite Madonna used to stay in for a whopping $4,000 a night. In addition, guests can now partake in Spa Eleven, a day spa overlooking the mosaic pool in which sybarites can enjoy a six-hand treatment called 'massage à trois.'" Followed, shortly thereafter, by three happy endings.

American Idol quitter Mario Vazquez has an album and a single, "Gallery", forthcoming. Vazquez (with a Z): "I don't want to give too much away, but lyrically it's just longing love, lost love, wanting love." Zzzzzzz.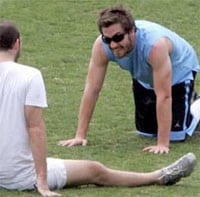 Jake Gyllenhaal plays nice with friend.

Bette Midler had difficulty getting her head around the idea of gay marriage and civil partnerships because her idea of gay culture was men "who loved playing the field." Said Midler recently: "Wow! I didn't know there were that many people in love! You know, I'm old-school. I'm this age, and I've been through a lot and I didn't quite get it. I understood the civil part of it, but I knew a lot of people who wanted to live alone, have serial partners. It was very hard for me to grasp, I think. It was hard to see that it was an idea whose time had come. I know a lot of gay people, but I didn't know anyone who was rushing to the altar. But when I see people who are so committed… I think human beings are bound to want that."