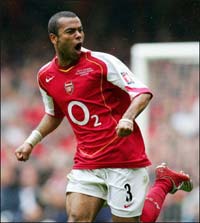 Arsenal's Ashley Cole is suing the British tabloids News of the World and the Sun for libel, harassment, and breach of privacy over the claims that a group of footballers were engaged in a three-way orgy with a cell phone.
While Cole was not explicitly named in the article, the website PinkNews identified two people who were in a digitally-enhanced "silhouette" photo that the tabs claimed was an image of one of the footballers and a well-known DJ. That identification, which fingered Cole and DJ Msterstepz, spread quickly around the internet. The Press Gazette notes: "It is believed that Cole may be suing the News of the World not so much over the original article, but the effect it has had by causing many internet sites to identify him as the person referred to in the article."
Robbie Williams' recent case may shed some light on what Cole is after here. Notes The Gazette: "Last December, pop star Robbie Williams accepted an apology and reported damages of £200,000 over stories in The People newspaper and Star magazine that accused him of covering up homosexual encounters. It was judged to be defamatory, not that Williams was gay, but to claim that he had deliberately deceived the public by presenting a false image."
Cole's actions beg another question, which is, what would benefit his privacy more? Making a public brouhaha about a false image of himself or keeping quiet and letting it blow over?
Cole sues over tabloid 'gay orgy' stories [press gazette]
England Footballer Sues Tabloids [guardian uk]
Previously
Athletics and Affection [tr]
Tabloid: The Football Orgies Continue [tr]
British Tabs Claim Gay Three-way by Footballers [tr]