Pennsylvania police officer's lawsuit exposes ugly homophobia within force. Michael Kurz says after the 86-member police force found out he was gay, a series of humiliating and dangerous incidents ensued. Although most of the force is supportive, Kurz alleges that because he is gay, some officers refused to provide back-up on a "potentially dangerous motor vehicle stop." Kurz: "I am not doing this for the money, but for the principle. There are other officers out there like me, and if they see someone else who has come out and who is courageous, they may also come out or feel better about themselves. We are just like everybody else – we're human."

Post: West Hollywood streetwalker Shalimar may return to haunt Eddie Murphy's divorce proceedings.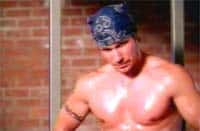 Nick Lachey's big career move.

Anti-gay adoption legislation appears to be "faltering" across the country: "Gay rights activists expected there could be proposed anti-gay adoption bans this year in Alabama, Arkansas, Georgia, Kentucky, Missouri, Mississippi, Tennessee and Texas, as well as Ohio. But so far this year, at least, only Ohio has seen a bill introduced in the state legislature that would ban gay and lesbian people from adopting children. And even there, the bill looks headed for defeat."

Clay Aiken exposed – again. Webcam pics.

Four Catholic Bishops want an exemption from Massachusetts anti-discrimination laws so they can stop placing adoptees with same-sex couples but they didn't bother consulting with Catholic Charities, the church's main agency in these matters: "All 42 board members are in favor of allowing same-sex adoptions – at the very least, because they are realists. They know that to operate as a quasi-state agency – which they do – they must play by the state's rules." And Governor Mitt Romeny is upset because he can't facilitate the bigotry.

Presbyterian minister who married two women in violation of church rules could be forced to leave the ministry after 30 years.