32%: Bush approval rating hits new low.

Avenue Q playwright Jeff Whitty is fed up with Jay Leno's treatment of gay material on The Tonight Show. The scribe sent off a letter to Leno, published in full on his website, which sums up his frustrations. Excerpt: "Every single out-of-the-closet gay person has had to say, 'I am not part of mainstream society.' Mr. Leno, that takes bigger balls than stepping out in front of TV-watching America every night. I daresay I suspect it takes bigger balls to come out of the closet than any thing you have ever done in your life."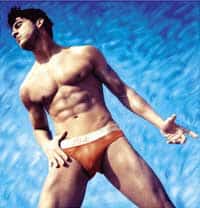 Underwear company 2xist is about to launch a new ad campaign using the art/photography hybrid images of Robert Sturman. A show featuring the new campaign is opening tonight in NYC at the Steven Amadee Gallery in Tribeca. Models will be on hand.

Openly gay Canadian federal cabinet minister Scott Brison wants to lead the liberal party: "Brison came out four years ago amid concerns by some of his handlers that it could hurt his chances for re-election in the conservative riding. The same fears arose when he joined the Liberals. But, Brison won the next two elections handily."

Are skinheads out for gay blood in Sao Paulo? Or are they just out for anyone's blood?

Mike Rogers' BlogActive is on the case of UN Ambassador John Bolton's spokesman Richard Grennell: "Let him what you think of a gay man representing a homophobic administration. Let him know what you think of his defending the US vote with Iran and Sudan on gay rights."

Kentucky may have trouble luring businesses to the state because of its anti-gay actions. Lexington executive: "Bigotry is bad for business and having a governor who is obviously bigoted is fundamentally incompatible with business. We go from a backwater state trying to attract business to a backwater, bigoted state trying to attract business."