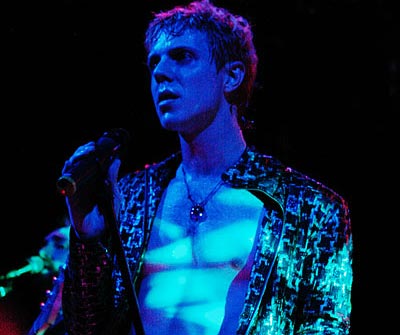 Plenty of excellent reports around the web of the Scissor Sisters concert that happened here in NYC over the weekend. The Modern Age has a great set of shots (including the full length of the shot above) that show off Jake's uh, strawberry blond (?) hair and a close encounter with Cher.
Juan over at Boozhy also has a report (we hope he recovers from the neck injury).
And Oliver at Thought Not saw shows on both Saturday and Sunday nights. He reports that none other than Karl Lagerfeld attended Sunday night's fest. We expect lots more from Oliver in the weeks to come, as he says he'll be spending some time on the Scissor Sisters tour bus out in Cali.
Previously
Scissor Sisters in the Studio [tr]
Shears Energy [tr]