82nd Airborne paratrooper who appeared on gay porn site reaches plea deal. Spc. Richard Ashley will plead guilty. The terms of the deal have not been released.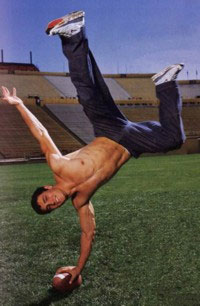 SuperBloom likely a second day draft pick for the NFL: "Oh, yeah, he's also a world-class freestyle skier, last seen in the 2006 Olympics, but skiing is not Bloom's interest now. Football is, and the proof was an impressive workout in front of 31 teams earlier this month when Bloom demonstrated he can do more than return punts and kickoffs. He caught short passes. He caught deep passes. Slants. Outs. Goes. Then he shagged punts. He caught passes with two hands. With one hand. On the run. After a complete turn. He also benched 225 pounds 19 times."

Queer Duck, the short-lived animated Showtime series, is becoming a made-for-DVD movie. The plot? "Queer Duck confronts the challenges of being gay with the help of his fabulous friends Openly Gator, Bi-Polar Bear, and Oscar Wild Cat who remind him that he's happiest when he's just being himself." That sounds pretty queer to me.

Australian tennis stud Mark Philippoussis says he wants to create a men's fashion line, but says he's not too excited about modeling it: "They made me do some pretty stupid stuff over the years. Modelling was never really for me. They put you in those funny poses, made me look like a bit of a Zoolander, an idiot. There's no way I'm doing any of that naff stuff. I've always been interested in fashion, so a clothing line might be the one thing I look into when I'm done. I guess I'd model it myself, but no stupid poses and clothes always on."