Barry Diller calls gay mafia rumors floated by Michael Ovitz "absurd."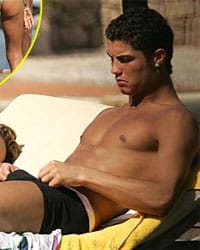 Sulks on the Beach: Cristiano Ronaldo suits up in the Mediterranean.

The Mayor of Amsterdam Job Cohen sent letters to eight other European mayors urging them to uphold gay rights.
Cohen's message: "Adhere to the universal declaration of human rights, and to do everything in your political power to open up marriage for same-sex couples and safeguard the right of public demonstrations in your city." Mayors in Warsaw, Prague, Lisbon, Dublin, Vienna and in the Baltic capitals of Riga, Tallinn and Vilnius received the letter.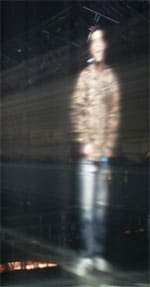 Help me O-boyband Kenobi, you're my only hope! Robbie Williams joins a reunited Take That on stage — as a hologram.

Debbie Harry is back and wants to get "Dirty Deep" (download it). Arjan: "Harry's attempt to talk/rap her way through the pimped up tune is somewhat bizarre and at best a nice gimmick to stay in the game."

Kentucky Governor Ernie Fletcher refuses to veto funding for pharmacy school at University of the Cumberlands, from which Jason Johnson was recently expelled for saying he's gay on his MySpace profile: "Fletcher said he based that decision on the fact that the $10 million for construction and $1 million for scholarships for the proposed project came from coal severance taxes paid by coal companies, not by individual taxpayers in the state. 'This is a difficult issue and one where there is no definitive case law establishing the legality,' the governor said. 'I believe we need to answer once and for all in Kentucky the legality of funding private faith-based institutions.'" Now, Kentucky Fairness Alliance sues Fletcher…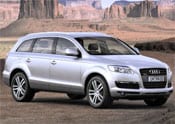 Just a day after his BMW was stolen, David Beckham received a brand new £70,000 Audi Q7 4×4 with £20,000 worth of extras. All of Real Madrid's players receive an Audi as part of the carmaker's sponsorship: "The England skipper opted for a 4.2FSI in phantom black with pearl-effect paintwork, black leather interior, car phone, flat screen television, Bose stereo, satellite navigation and a keyless entry and starting system."

Tom Cruise in Rome: She bangs!

HELL AIR: Airlines proposing standing-room-seats. Researcher: "To call it a seat would be misleading."

Richard Hatch sentencing delayed as lawyers work on rebuttal to memo.