Kylie Minogue may return to performing at UK Glastonbury Festival.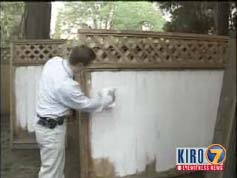 Two crew athletes at the University of Washington have been dismissed from the team after painting a six letter gay slur (you can probably guess what it is, though news orgs. don't seem to want to print it) on the fence of another crew team member who missed practice because he was ill. Because of the team member's absence, the crew team was reportedly given a slower rowing substitute who caused their boat to lose to a women's team. One of the athletes has already apologized to neighbors who live in the area of the targeted crew member, but UW officials say that's not enough to get him back on the team: "UW athletic director Todd Turner is supporting the dismissal, saying the coach's decision was a very appropriate action."

Barbra Streisand and Meryl Streep both snub Will & Grace producers' request for guest cameo on final show.


Battle ships: Days after RSVP announces they're taking the queens on a transatlantic voyage on the big Queen Mary 2, Atlantis Events announces they've chartered Royal Caribbean's Freedom of the Seas, the world's largest cruise ship (it carries 3,700 passengers) for a Caribbean cruise in 2007.

Rich folks heading to the Kentucky Derby this year will be able to spend their disposable dollars on a $1,000 mint julep in a 24-karat gold cup with a silver straw, made from Kentucky's finest bourbons. Distillery: "Mint from Morocco, ice from the Arctic Circle and sugar from the South Pacific will put this mint julep in a class of its own."

Fantastic Four hunk Chris Evans really wanted a free drink.

TAB: Simon Cowell is a chest groomer.

Gay Games rowers get final approval for Crystal Lake venue.