White House Press Secretary Scott McClellan resigns.

No Gay Pride for Ottawa, Canada? The city's celebration is bankrupt and needs $25,000 from the city to survive. Treasurer: "The psychological impact of missing a year would be pretty damaging to the gay community."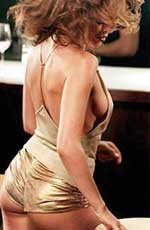 David and Victoria Beckham have a new stylist who got his name after he put Kylie Minogue in a pair of gold hot pants and turned her career around. Let's see if Becks shows up in gold hot pants anytime soon.

Jason Johnson, the student who was expelled from Kentucky's University of the Cumberlands for gay material on his MySpace site, has reached a deal with the University that will allow him to complete his work from off campus. Johnson was on the Dean's List and his dismissal had left him with a line-up of F's on his transcript. Kentucky Senate President David Williams visited the school yesterday and defended the Baptist school's right to dismiss Johnson. Said Williams: "Those people that don't want this university to have values and principles will be defeated."

Nepal's gay activist Blue Diamond Society has joined a movement to oust the autocratic government of King Gyanendra: "Nepal's gay community, already under repression from a patriarchal society, has been facing greater jeopardy since last year, when Gyanendra seized power with the help of the army and added political turmoil to the nearly decade-old Maoist insurgency. With security forces having been given greater authority, homosexuals have been at the mercy of assaults, arbitrary arrests and molestation inside police stations. As the kingdom's rights activists grapple with mounting human rights abuses inflicted on suspected Maoists and opposition party activists, the plight of homosexual detainees is being virtually ignored."