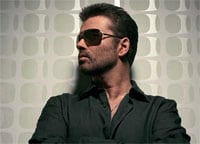 The British tabloids seem as if they're chomping at the bit to dig any bit of dirt up on George Michael. Toby Bourke, a "former musician pal" of Michael who says the singer has ruined his career with his pot-smoking habit, claims to The Mirror that he saw Michael smoke "20 super-strength skunk joints a day" at one point. Said Bourke:
"Drugs have turned him into a stoned waster and made him depressed. Dope is his poison. Dope destroyed his will to work. When you smoke as much as George has done you simply cease to function. Cannabis has wrecked his career. All that dope put paid to it. I don't think you'll see much more work from him. He is basically lazy – and it is all the cannabis he's smoked that has made him like that."
This was when they were working together on the single "Waltz Away Dreaming," a time before Michael had announced to the world that he was gay.

"He was stoned all the time. It was pretty much a haze of dope the whole way through the recording sessions. He would smoke skunk joints in the studio when we were meant to be working. He was easily getting through 20 joints a day. The joints were in a Marlboro box and had been rolled by one of George's lackies. He would smoke one, take a break, then spark another one up. I remember how smelly and pungent it was when he was smoking them. But nobody was allowed to complain."
Bourke also says that Michael was obsessed with feng shui:
"George had a big thing for feng shui for a while. It was as though he thought that V would solve all of his problems, which was ridiculous. I hadn't heard a dickie bird from anyone on George's label for two months, then the manager rang out of the blue and sounded really excited. I was hoping he was going to say that George was ready to get back in the studio. But instead he told me things would soon start going again – because they had feng shui'd the office."
While it's not clear what the most recent contact Bourke has had with Michael, it does appear that either Bourke wants publicity or he's out to damage the singer's reputation.
Michael seems to be doing that very well on his own, however with two recent incidents. One involved police finding the singer slumped over the wheel of his Range Rover and the other involved a three-car hit-and-run accident.
Now, I thought the singer had retired, but his website says he's working on tracks for a new album, which is great news. Hopefully he's using some of those feng shui techniques on his life, because it sounds like things could use a bit of rearranging.
Exclusive: Drugs Could Kill George Michael [mirror]
Previously
George Michael: Dazed and Accused in London [tr]