Ambiguously Gay Duo to host SNL this weekend.


Republican Sen. Bill Finkbeiner, the Washington state legislator who helped pass Washington's gay civil rights bill by switching his vote, says he won't run for office again. Finkbeiner: "I think it's better to leave things when you're doing well. It's always better to go out at the top of your game, and that's where I am now." When Finkbeiner switched his vote for the bill, he made this statement: We don't choose who we love. The heart chooses who we will love. And I don't believe that it is right for us to say … that it's acceptable to discriminate against people because of that." Amen. Ya did a heck of a job, Finkie.

Meanwhile, a bid to overturn those new civil rights laws in Washington state appears to be losing steam as its organizer sends an email, but other legislators suspect it may be a smoke screen. Rep. Ed Murray: "I'm very suspicious that it's a political ploy. I would hope his traditionally libertarian, anti-tax group doesn't want any part of this anti-gay effort or this effort to use the referendum process to bash gays."

WARNING: You may be eating anti-gay sushi.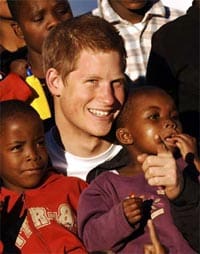 Prince Harry reunited with Lesotho orphans.

J Lo is put to best use offering come-hither looks and "slamming her ga-dunk ga-dunk dunk."

Indonesia gets its first gay guide!

Report: RSVP cruises courting Mariah Carey and Christina Aguilera.

Graham Norton says he's too old to be attractive to gay men: "People don't ever throw themselves at me. They come over and say hello but they're not going to waste time having sex with you when you're an older man. That's just how the gay world works. I'm normally single so it's not really that weird being on my own now. By and large I've always lived my life as a single man but there are definitely moments when I wish it was different."

Cowardly teachers renege on promise to sponsor gay-straight alliance in St. Augustine, Florida. The students had been given the go-ahead after national attention and threat of a lawsuit prompted the principal to say yes to the alliance. However, when students went back to the teachers who originally said they would offer the required sponsorships for the club, the teachers had changed their mind. Student leader: "I think they got scared for one reason or another."

HATE: Same-sex marriage battle gets ugly in Minnesota.

Researcher: Circumcision and fidelity more effective than promoting abstinence and using condoms to curb HIV.