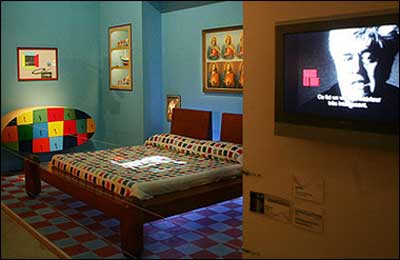 A new exhibit on filmmaker Pedro Almodovar opened in Paris at the Cinematique Francais yesterday. Included are photos and personal objects including cameras, childhood items, and a recreation of Almodovar's own bedroom. Bedrooms are often featured prominently in Almodovar's movies (my favorite being the sexy Law of Desire starring a young, gorgeous Antonio Banderas, below), thus the refence.
Said a humbled Almodovar of the exhibition: "Imagine opening a dooring and entering a limitless place, a small city in which the streets, the buildings, everything seen through the windows is made up of images of your life. It's very difficult for me to enter such a place."
The exhibition runs until the end of July.