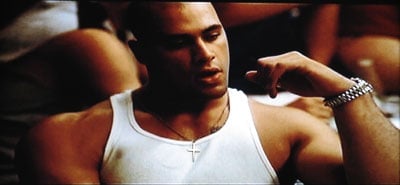 [Spoiler Warning] The Sopranos took its first visit to a gay bar last night. But first how about a tribute to the fresh eye candy? It debuted in the form of Tony Soprano's new driver/bodyguard whose muscles, macho sensibility, and gofer status provide a perfect foil for Tony's need to show that he's still the alpha male he used to be.
Here's a short piece on Louis Gross, the 23-year-old fitness model turned actor: "The acting side of the business is where the longevity is. I didn't want to just be another flash in the pan, in and out type of model." We hope he sticks around for the season.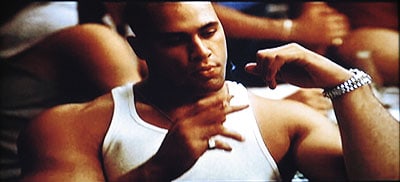 The show makes a return to the storyline of Vito Spatafore, last seen giving a blow job on a construction site last season. Joseph Gannascoli, the heterosexual actor, talked to the New York Daily News in March about the character and his prior relationship with the gay community. He pops up this time in a gay club, in full leather.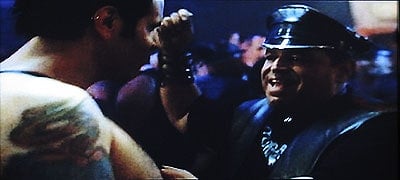 Unfortunately, he's spotted by two mobsters who have come there to extort protection money from a bartender.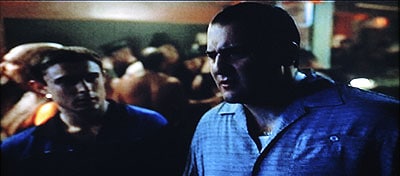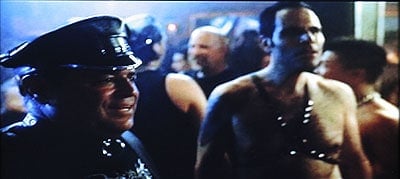 "It's a joke," Vito says, realizing they don't believe it for a second, before pleading, "Don't say nothin'!"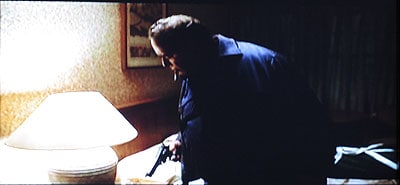 So what's to happen to Vito? We next see him alone in a motel room with a gun. Presumably he'd rather face his death alone than have to deal with the shame of having his story known.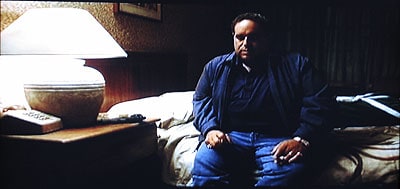 Gannascoli gave the idea for the gay character to the Sopranos producers: "I saw him as, like, a cross between Mike Tyson and Liberace. I wanted to make him sort of in self-denial, self-loathing, a real gay hater. I thought that was a way of separating myself from the other actors, because I would have been in the background most of the time. You know, line here, line there, and nothing really substantial."
Let's hope Gannascoli and Gross are around for a few more episodes.