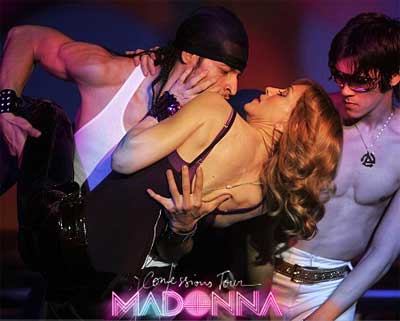 Madonna has announced dates for her international "Confessions Tour" this spring and summer.
Taking advantage of Madge's promised recreation of Studio 54 for the tour, St. Martin's Press is releasing Confessions from the Velvet Ropes: The Glamorous, Grueling Life of Thomas Onorato, New York's Top Club Doorman
and promises the Kabbalist makes its pages.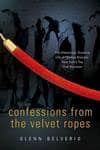 Say the book's promoters: "This is not her first connection to the legendary discothèque. In 1983, Madonna performed at Studio 54 at a party for the Italian fashion house, Fiorucci. Surveying the dancefloor with budding actor David Alan Grier, Ms. Ciccone remarked: 'You and me are going to be big stars, baby, and leave these other suckers in the dust.'"
Well at least it worked out for one of them.
The book's author says he has no problem piggybacking on Mrs. Ritchie. Says Glenn Belverio: "The synergistic spectacle of Madonna and Studio 54 is exactly what the culture needs right now. Many of the kids who go out to clubs today are hungry for details about nightlife's history—and who better to give them a lesson in nightclubbing than Madonna?"
Previously
Madonna's Reinvention Tour [tr]