Neuroscientist Simon LeVay says that the relationship between Robin Williams and Nathan Lane's characters in The Birdcage is much more realistic than the relationship between Jack Twist and Ennis del Mar in Brokeback Mountain.
Why? Because, LeVay says, gay partners who are too distinctly similar in their behavior have nothing to gain from one another: "They have nothing to trade, as it were. In addition, it may be difficult for a person to see their partner as sufficiently 'other' or 'exotic' for romantic passion to exist."
According to the Sydney Star Observer, "LeVay believes this need for opposition explains some of the sub-sections of the gay and lesbian community, including butch/femme relationships in lesbians and gay men who date much older or younger partners or partners of a different race."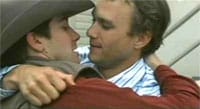 Equality in masculinity, LeVay says, does not fly:
"Some degree of difference between partners is probably necessary for the establishment and maintenance of loving sexual relationships. With a man and a woman, this essential difference is supplied automatically by the very fact that the union crosses the sex divide. Differences between that, in age, race and so forth, may tend to overload a couple's capacity for mutual understanding, or may provoke social intolerance, which would explain why most stable heterosexual partnerships are between fairly similar people."
To me it just seems like an embellishment of the old 'opposites attract' adage, or an extremely simplistic reiteration of the theory that one man in a gay relationship plays the woman's part and one plays the man's. A very black and white look at top vs. bottom. I'd hope that relationships and the values one sees in a partner are far more complex than that.
In 1991, LeVay made headlines when he said he had found a genetic marker that differed between gay and straight men.