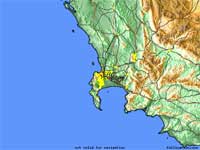 The aftermath of a tragic event has been playing out in South Africa. On the night of April 15th, actor Brett Goldin and his friend, fashion designer Richard Bloom, both gay, were discovered murdered on the grassy edge of a highway near Mowbray, South Africa, virtually naked with gun shots to the backs of their heads.
According to the Cape Argus, "Bloom, 27, was a fashion designer for Maze Clothing in Cape Town, while Goldin, 28, was a well known actor about to leave for Britain with Janet Suzman's production of Shakespeare's Hamlet."
The execution style murders came at the hands of a gang of men. Eleven were originally accused and charges against three were formally dropped. Another man was recently released because a court document had been tampered with and the suspect was held for 51 hours, three hours over the legal maximum.
According to the Independent, "Police said media reports alleging the motive for the murders could be drug-related were pure speculation and the provisional motive was robbery. "
Bloom's partner of six years spoke at his funeral last Friday: "If only I had known it was our last walk in the rain. If only I had known I would never hear your voice again, I would have memorised everything you said…The past week has left me feeling great despair."