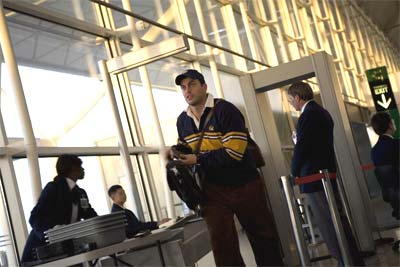 I'm just guessing this is the character of Mark Bingham, based on the Cal rugby shirt. Does anyone have any info on how Bingham is depicted in the movie? I wasn't planning on seeing it but based on just about every review I've read, the movie is extremely powerful. Last night it screened in New York:
"When the opening night film for De Niro's Tribeca Film Festival ended, there weren't just muffled tears or soft sobs but a loud, unnerving, heartbreaking keening, a howling in the darkened theater as United 93 ended with a black screen and notes on the day's events. The sold-out crowd that exited was the most somber, silent group anyone could imagine."
Bingham's aunt, Candyce Hoglan, was at the Tribeca screening. Her reaction to the film? "Excruciating. I stood on the side in case I had to bolt, but I didn't. It's not a feel-good movie,but if we need any reminder of how important airline security is, this is it."
Has anyone seen it? Too soon for this movie? Will there ever be a right time? Thoughts?
United 93 [trailer]