Robbie Williams says he's going to release a dance album and is working with the Pet Shop Boys and William Orbit to produce it. He says he'll release it under a pseudonym. Is dance music that shameful?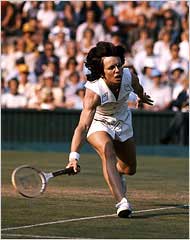 HBO is taking a much-deserved look back at the career of Billie Jean King in a new documentary that debuts tonight. Although she was forced out of the closet in the early 80's, she quickly became a gay icon. She was a huge icon for women already after 90 million people watched her win the match of her life on September 20, 1973 against Bobby Riggs: "After Margaret Court choked and lost to Mr. Riggs, Ms. King said, she had no choice but to defeat the 55-year-old hustler who proudly called himself a male chauvinist pig. Their 'Battle of the Sexes' had a campy, silly overtone: she came into the Houston Astrodome seated on a litter carried by toga-wearing football players, he in chariot pulled by women. For all the kidding, that showdown carried huge symbolic meaning. Most civil rights causes are thwarted through fear, but ridicule has always been the weapon of choice against feminism. Ms. King made sure the match itself was a rout, and not a laughing matter."

Cousin: George Michael has never gotten over the deaths of his mother and his lover: "Spliffs help George get through the day. That was the only way to deaden the pain. So that's what we used to do from morning until night. And for George it hasn't changed."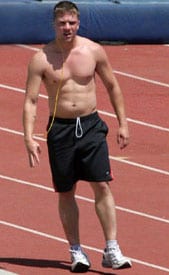 Ryan Philippe has been working out at his favorite track again and Pink has a multitude of muscle pics.

Supporters of a domestic partner registry in Nassau County on Long Island, New York were blindsided when a vote to pass their domestic partner proposal went sour. Supporters say they were "sandbagged" by opponents like the Nassau County Civics Association and the Bible Baptist Church. One Democrat who voted against it said he did so after listening to public testimony. His counterpart on the council said, "To be given assurances that it would pass and have it changed … at the 11th second is reprehensible." Another supporter reportedly shouted from the balcony: "You should be ashamed."

Bait and switch: Nick Lachey is apparently supremely pissed that the gay, gay, gay cover shot of the singer on Us Weekly wasn't used for Rolling Stone. Page Six Wenner media source: "The Us Weekly issue [with an oiled-up, shirtless Lachey on the cover] sold really well in Chelsea, but that's about it. It was the gayest cover in years."