Apple wins court case against The Beatles. Judge allows Apple to continue using apple logo in association with iPod and iTunes.

Kentucky's Governor Ernie Fletcher faces 20 gay activists at Derby breakfast. Fletcher: "We welcome everyone to express their First Amendment rights. I would hope they'd feel welcome to come in and have a good breakfast and feel more amicable." Fletcher recently angered activists by not vetoing $11 million in funding for a pharmacy school at University of the Cumberlands. The University expelled student Jason Johnson for saying he's gay on his MySpace blog.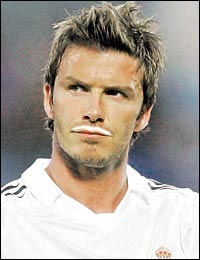 David Beckham gets milk.

Gay Pride in Charlotte, North Carolina has been given a new life. After right-wing Christians claimed victory in evicting gays from the park where the event is usually held (the truth is that organizers of the event dropped out), a new group has resurrected Pride at a new location, Gateway Village.

Survey of Greek Cypriots shows that 80% believe homosexuality is wrong: "The staunchest critics of homosexual relationships were men over 45 years of age, people with a low level of education and those who live in rural areas. Those most tolerant of gays were youngsters, women and those with a higher level of education."

Although British Sci Fi series Doctor Who has been pushing the envelope with the sexuality of its characters, an actor on the show claims that a gay kiss was dropped from the series because it might have upset fans.