31%: How low can it go?

Josh & Josh's NYC apartment hunting hell: "This is the scene: The apartment we are being shown is supposed to rent for $1600 a month. It is one large room with a pocked concrete floor, a tiny bathroom, a fridge in the middle of the livingroom, rotting cabinetry, and a sink that looks like a biology experiment. The one window in the room is open and there are no screens. A cloud of houseflies meanders around the apartment. It smells vaguely of cow dung…"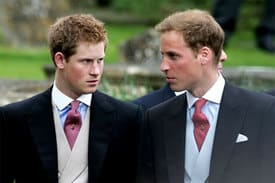 Harry and Wills jet in to make splash at almost royal wedding.

Mary Cheney on Primetime Live: "From my perspective, Heather and I are already married. We are just waiting for state and constitutional law to catch up with us."

Head of Iran's Physical Education Organisation says no to metrosexual footballers: "I will ban athletes with an effeminate look. It is really disgraceful for Iran that young people step onto fields wearing make-up. When a man enters the field with dyed hair and groomed eyebrows he is disrespecting society. Even though they get away with it now, they will be disqualified in [the] future". That's right, hang 'em all, even if they look gay.