The "total slime" speaks. John Edwards responds to comments by Mary Cheney in her new memoir that criticized Edwards and John Kerry for bringing up her sexual orientation in nationally televised debates. Said Edwards' spokeswoman: "Senator Edwards continues to believe, as he said in the vice presidential debate when the issue was raised, that the Cheneys have been wonderful role models for the millions of parents around the country who love their children unconditionally."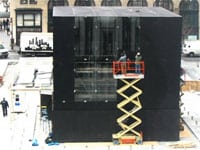 Apple to unveil NYC cube store on May 19th.

Report: Ad spending in gay media at an all time high.

Virulent chlamydia spreading among gay men in U.S.

The Lieutenant Governor of Maryland Michael Steele spoke to an Alliance for Marriage Foundation workshop last week and told them they should be concerned about the encroaching dangers of same-sex marriage. He also implied that gay people could not be "people of faith." Steele is running for Senate and his words caused his rivals to speak up. Said candidate Kweisi Mfume, former CEO of the NAACP: "I'm a Christian, I've been married and I have six sons and three daughters-in-law. I've been fighting all my adult life for civil rights, and I'm opposed to discrimination in any form, including discrimination based on sexual orientation."

This is the first time I've heard the voice of Cristiano Ronaldo.


Since Italy's incoming government will most likely face legislation dealing with the legalization of gay marriage, Pope Benedict decided to remind everyone once again today about the Vatican's anti-gay views on marriage: "Only the rock of total and irrevocable love between a man and a woman is capable of being the foundation of building a society that becomes a home for all mankind…Today, it has become urgent to avoid confusion between (marriage) and other types of unions which are based on a love that is weak."