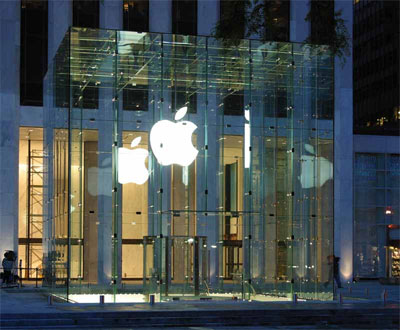 I'm not exactly sure why I get slightly giddy over this stuff, but I guess there are a lot of unanswered questions in life. Anyway, here's Manhattan's newest retail shrine, the Fifth Avenue Apple Store, in its full glory. IFO Apple Store has a series of pictures and video of its unveiling. Here it is unopened. The Wall Street Journal ran a big piece yesterday on Apple's retail strategy.
Word is there's going to be some sort of free concert (U2?) at tomorrow night's opening. The line has already begun. Crazy. Not sure it will rival the crazy line that formed two years ago in Japan, but who knows?
Windows devotees please pardon this entry.