Batwoman set to make her return for DC Comics as a lipstick lesbian moonlighting as a crime fighter: "The new-look Batwoman is just one of a wave of ethnically and sexually diverse characters entering the DC Comics universe…The characters are part of a wider effort to broaden the make-up of comic-book creations in line with society as a whole. Batwoman, who first appeared in July 1956, has not been seen since September 1979 when she was killed by the League of Assassins and the Bronze Tiger.

Bush to host United 93 screening for relatives of passengers and crew.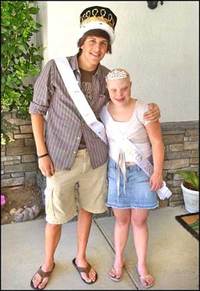 Gay boy, and girl suffering from Down Syndrome named prom king and queen at California high school: "For five years, students at Murrieta Valley High School have attended 'unity forums,' in which students gather in groups to learn more about each other through coordinated activities and exercises meant to break down stereotypes and foster acceptance. Chad's and Taylor's crowning is evidence of the fact that students have embraced the idea of appreciating each other for who they are, regardless of their differences, [Murrieta Valley Unified School District spokeswoman Karen Parris] said. At this young age, they already understand how to embrace humanity.'"

REPORT: 1.2 million living with HIV in the United States: "Public health officials in major US cities confirm that the perception that HIV is no longer a serious problem may have resulted in some gay men ignoring safer sex practices."

Jacob Reitan and Haven Herrin of the gay activist group Soulforce will attempt to sign up for military service in the Twin Cities today, according to the Associated Press. If they are not successful, eight others will join them for a sit-in.

The 'heterosexualization' of West Hollywood has some worried. Mayor Jeffrey Prang: "It's still predominantly gay here, but the fact is that we have at least three venues which are straight — which has never been the case before — and we are hearing that there are people who come to West Hollywood to go to the bars who seem oblivious to the fact that there is a large gay population here…. It's a recipe for trouble."

Mary Hart outdone: Mariah Carey insures legs for $1 billion.