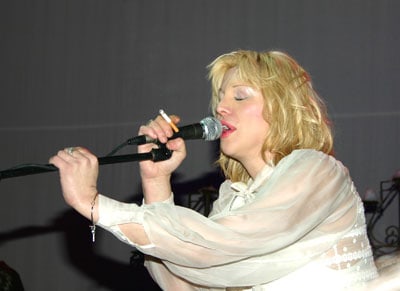 The L.A. Gay & Lesbian Center held a fundraiser on Saturday night and Linda Perry of 4 Non Blondes was billed as the headliner. So imagine the audience's surprise when a chain-smoking Courtney Love and Smashing Pumpkins singer Billy Corgan joined Perry onstage to sing tracks from Love's new album. Towleroad can now bring you these shots from the event.
Love talked to NME.com about the night, which raised over $150,000 for the Center: "Billy and me have never been onstage before and it was intense. His guitar parts are haunting and beautiful. It's me, him, Linda and 2000 lesbians and the songs are dramatically different from the demos. It was fucking historic, Billy played 'Can't Find My Way Home' by Blind Faith and Linda played 'Beautiful' and 'What's Going On'. It was such a cool living room vibe. The songs are smashing now. I wouldn't fuck around here, this is the best shit I've done since 'Live Through This' period. It's hard to sell six-minute new songs and you could have heard a pin drop although apparently there was speculation about whether I was wearing underwear. Look I've been wearing short skirts onstage forever and and obviously I wear panties. Christ!"
Glad we cleared that up.
Pictured below with Corgan, Perry, and Love is the Center's CEO Lorri L. Jean.