Jake Gyllenhaal offends Gulf War veterans with "masturbation" comment and offends others (but not this blogger) by wearing spandex.

Mother says she abducted her son from a South Florida school and fled to Costa Rica because she was afraid her gay ex-husband would "turn" him gay. She's now an artist living in Key West. "The boy, whose identity is being withheld by The Miami Herald because of his age, testified last week that his mother forced him to lie about being molested because she felt it was unfair that he lived with his dad."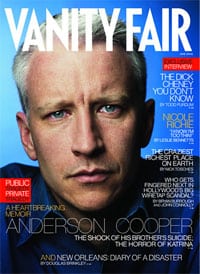 Anderson Cooper reveals pain he feels over his brother Carter's suicide in his new memoir:
"For so long, I tried to separate myself from my past. I tried to move on, forget what I'd lost, but the truth is, none of it's ever gone away. I assumed he'd come up with his own way to deal with the loss (of their father). I thought he could take care of himself. If only I could have told him that he wasn't the only one. I abandoned him long before he abandoned me."

Anti-gay group predicts they'll have enough signatures to get a measure on the Illinois ballot this fall that would allow voters to choose whether they would like to define marriage as between a man and a woman.

A second Fort Bragg paratrooper has been sentenced after pleading guilty to participating in gay porn. He admitted to using marijuana and being paid $7,500 for the porn gig. He will spend three months in jail and be discharged from the Army. He is the second paratrooper from the 82nd Airborne Division to strike a plea deal in the case.

More Coachella: Thought Not behind the scenes with the Scissor Sisters.