First of all, a load of thanks to everyone that left comments yesterday wishing me a happy birthday! They were much appreciated and you all made my day a lot more special. I am convinced I have the coolest readers out there. Thanks again!
Grand Ayatollah Ali Sistani removes gay fatwa from his website after negotiations. Gay Iraqi refugee: "We welcome the decision to remove the most murderously homophobic part of Sistani's fatwa from his Web site. This decision does not go far enough. The fatwa has been removed from Sistani's Web site only. It has not been revoked. We want the entire fatwa withdrawn, including the hateful denunciation calling for the punishment of lesbians."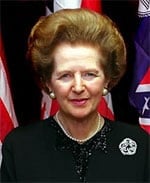 Margaret Thatcher: gay icon? "You are looking at an intrinsic and steely power to self-transform, to lift yourself by your boot straps and make the best of yourself with a wry smile on your face and a click of your heels. This is the secret code that gay men understand."
Vienna to get memorial for gay and lesbian victims of the Holocaust: "A large basin filled with pink water will be built in 2007 in Morzinplatz…at the former Gestapo headquarters, to remember the homosexual victims of the Nazi regime…The basin will be inscribed with the word 'queer.'"
Howard Stern and Rosie O'Donnell get chummy over sushi. Stern: "I think she's great and I like her honesty now."
Will shareholders of ExxonMobil do the right thing and reinstate protections for gay and lesbian workers at their meeting on May 31st? "LGBT workers had been included in employment policies at Mobil. In December 1999 when Mobil merged with Exxon and under Exxon's direction, the policy was abandoned. At the same time, it closed Mobil's domestic partner benefits program to any more employees."
Ten sweet years of Cosmo nude centerfolds (male, that is).
Does Today in New York co-anchor Rob Morrison have a man crush?