Three exotic male dancers in Maryland say they were unfairly forced to strip for police officers after being stopped for a speeding violation: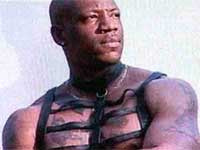 "The men — Derrick 'Sexecutioner' Williams, Edward 'Total Package' Cloyd and David 'Pain' Lawrence — said the officers ordered them out of the SUV, forced them to strip and confiscated $10,000 in cash that the dancers said they earned in tips."
Said Cloyd: "I feel very violated. Not only did he make us take our clothes off, but before asking me to take my clothes off … he was like, 'Well, I'm not gay. Take your clothes off and I got to take pictures for evidence. That's very uncomfortable."
This is a bizarre story all around. The three were allegedly forced to strip at a police station where they were taken by cops after being charged with misdemeanor drug possession. From the Baltimore Sun:
"According to the notice of claim: 'Even more bizarrely, even though each client was charged with misdemeanor possession … each of the three of them was required by Detective Kent to strip and pose for full body photographs while in custody.' Kent told them it was necessary to document any tattoos. Then he said, 'I'm not gay, now strip,' according to the notice of claim. Thorne said she saw 'no reason' that nude photographs would be taken."
The strippers are suing the Maryland Transportation Authority Police Department for $5 million.
Strippers Sue Transportation Police [wbal]
Strippers Contest Actions by Police [baltimore sun]