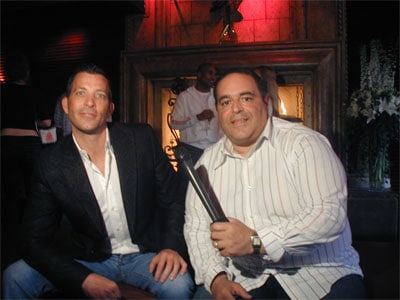 Joseph Gannascoli, Vito on The Sopranos, is eating up the attention he's getting for playing gay. He recently made an appearance on Jimmy Kimmel Live in which he visited The Abbey in West Hollywood to interview owner David Cooley about the "pink mafia" ( I suppose that's a rival group to that other alleged homo power gang, the velvet mafia). The Abbey recently celebrated its 15th Anniversary.
Of course, Gannascoli is no stranger to gay bars and restaurants. He used to work in one.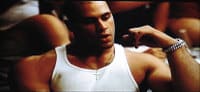 Louis Gross, the hunky actor who recently played driver/bodyguard to Tony Soprano, was arrested over the weekend for breaking in to the brother of a friend's home to retrieve some belongings. This is not the actor's first real-life crime either.
According to The Post Chronicle, "The NY Daily News says the 23-year-old ex-fitness model is also facing accusations of roughing up a Manhattan merchant on February 3rd. In this case, Gross was stopped as he set off an alarm while leaving the SoHo clothing store, Michael K., with a bagful of clothes. 'He ran out, he punched me,' said store manager Fane Mamadou, who suffered a sprained wrist. 'He was very big and very strong.' Gross faces a year behind bars if convicted in the Queens case, and 15 years for the Manhattan robbery."
Some people will do anything for the right D&G wife-beater and gold chain.
Previously
Gay Storyline Gets Boost in The Sopranos
A Friend in the Mob [tr]