Dame Edna punches photographer…

Deal or no deal? Randy Quaid mysteriously drops Brokeback lawsuit in which his lawyers claimed that filmmakers "were engaged in a 'movie laundering' scheme designed to obtain the services of talent such as Randy Quaid on economically unfavorable art film terms…"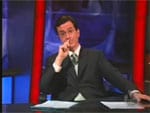 Stephen Colbert on the response to his White House Correspondents Dinner speech: "Very respective silence. The crowd practically carried me out on their shoulders, although I wasn't actually ready to leave…"

REPORT: Nearly half of all gays living in Dublin, Ireland have been victims of some form of hate crime in the form of a verbal or physical attack.

Former golf caddy receives $34,000 settlement from Tallgrass Golf Club in Shoreham, New York. Eugene Palumbo was ridiculed in the Country Club's newsletter after being beaten by two females in a club tournament for caddies: 'One suggested that he should give up golf and spend his summers on Fire Island providing "lap dances [for] the boys.'"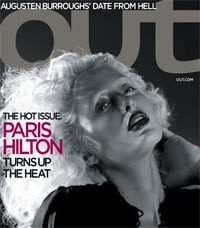 Paris Hilton declares herself a "fag hag" to Musto in Out: "Gay guys are more fun and they dress better and they're usually hotter. All the hot ones are gay."

Three people have been convicted in the theft of Edward Munch's famous painting "The Scream" although the work itself is still missing.

Jason Johnson, the student who was expelled from Kentucky's University of the Cumberlands for saying he's gay on his MySpace blog, has reached an agreement with the University that will allow him to complete his courses and receive final grades instead of the F's the school gave him when he was dismissed. In exchange, Johnson relinquishes his rights to sue the University for any wrongdoing. He can, however, file a complaint with file complaints with the U.S. Department of Education and the Southern Association of Colleges and Schools.