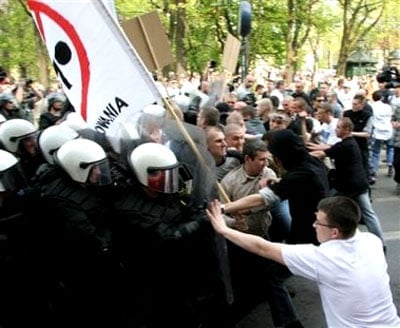 At least 1,000 people marched for tolerance of gays and lesbians over the weekend in Krakow, Poland, but the march was interrupted as members of the All Poland Youth Group hurled eggs and stones at the marchers.
They also held up signs that read "Lesbians and gays, all of Poland is laughing at you" and "Stop deviation", according to the BBC.
Riot police were forced to intervene and reportedly made several arrests. Violence had been expected at this march. Poland is one of the most distinctly homophobic countries in eastern Europe and its recent history of clashes over homosexuality and detention of activists have proven to be major challenges for equality and gay rights in that country.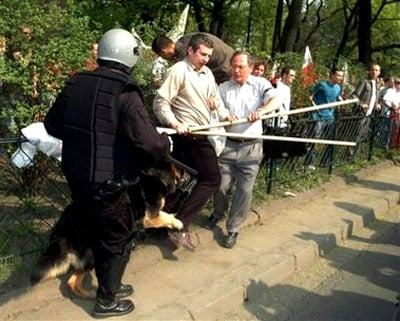 Previously
Protestors Crash Speech by Polish President [tr]
Gay Rights Activists Questioned, Detained in Poland [tr]
First Hand Account of Protest in Poland [tr]
Warsaw Gets in on the Hate [tr]
Anti-Gay Mayor is New Polish President [tr]