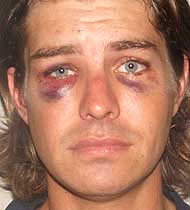 Australian Big Brother contestant David Graham, who last week outed himself on the show after one of the female contestants expressed an interest in him, has revealed he was brutally gay bashed earlier this year by a gang of five men outside a Brisbane nightclub:
"Before I knew it there were guys behind me and they were just beating the back of my head. All I can remember after that is the pain. They absolutely beat the s— out of me. My mate said they just kicked me while I was on the ground until they thought I'd had enough or they were scared they had killed me. The assault left him with severe bruising across his face and body. My whole face was a mess of blood. I was taken to the hospital and was in and out of unconscious for two hours. If you've been bashed by five guys you would expect there to be some type of internal injuries or brain damage after the kicks I took to the head — thank God there wasn't."
The revelation has reportedly strengthened the contestant's popularity among viewers of the show who vote to choose a winner. Australian oddsmakers have put Graham at the front of the pack.