WWJD? Gay-friendly church in Indiana launches $55,000 campaign to stop people from using the Bible to discriminate. Pastor: "Jesus defended social and religious outcasts. Yet many in today's Church seem to specialize in beating up on those who are different. What's wrong with this picture?"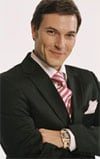 Look who's all cleaned up…

American duo Gnarls Barkley pull #1 single "Crazy" from UK shelves saying they don't want folks to get sick of it. The track was the first British single to go to #1 on downloads alone and spent nine weeks at #1.

Summer's here: A short, sweet guide to achieving that maple sugar tan.

Liz Taylor is not dead. Barbra Streisand does not want money.