Here is a short round-up of some interesting leftovers from yesterday's White House gay bashing.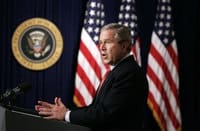 Bill at Crooks & Liars got through to Senator Crapo's office yesterday. Crapo is a Republican Idaho Senator and a co-sponsor of the Federal Marriage Amendment. C&L has a hysterical recording of the line of questioning.
AmericaBlog has some interesting details regarding Bush's gay bashing yesterday. It turns out that the White House hid wingnut religious leaders who were in attendance yesterday "Pat Robertson, Jerry Falwell, James Dobson, Focus on the Family, Janet Parshall, radio host (formerly FRC), Bob Knight, Concerned Women for America, Tony Perkins, Family Research Council, Peter LaBarbera, former CWFA and FRC, Lou Sheldon and Andrea Sheldon, Traditional Values Coalition; Who DID we see? A number of black people, and of course the required Catholic guy. I.e., we saw "mainstream" people, the kind of people who don't embarrass George Bush."
Bill O'Reilly has a chat with William Eskridge and Darrren Spedale, authors of Gay Marriage: For Better or for Worse
Think Progress video on Tony Snow, who slipped off the wingnut talking points and actually talked about same-sex marriage as a (gasp!) civil right!
Apparently Bush invited leaders from Ex-Gay groups to the gay bashing as well.
Only 3% say homosexuality is America's Most Serious Moral Crisis. Another poll that shows our out of touch Republican congress.
AmericaBlog also supplies us with a helpful reminder of what happened in the world yesterday while Bush was bashing gays.