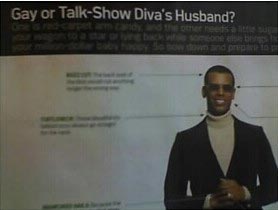 Details makes perhaps its boldest move yet in their back page "Gay or…?" series. In the past they've targeted stereotypical "types" but it's hard to argue that there's more than one talk show diva with a husband who looks like this.
Keith Boykin, whose site is the source of this partial photo, knows the model who posed for the shoot: "I asked Samuel if he had any qualms about portraying such a controversial figure in the magazine. 'No I loved it,'" he replied. 'I thought it was hilarious because of this DL issue. How appropriate to bust this whole thing.' He wasn't necessarily trying to bust Star Jones-Reynolds's husband, Al Reynolds. He was trying to raise awareness of the issue of black gay men."
I've got a feeling that the folks living in this pad aren't going to find the issue too hilarious.
Details Takes on Al Reynolds? [keith boykin]
Previously
Just Married [tr]
The Notorious BGA Has Meatpacking Brunch [tr]
Just Who You Were Yesterday, Baby [tr]