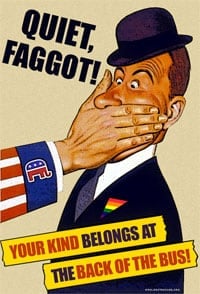 "It's politics. It's pandering and it's placating a core constituency, the evangelicals," said Gavin Newsom of George Bush's weekend radio address in which he reiterated his support for the Federal Marriage Amendment which has an ice cube's chance in hell of passing.
Said Bush in his weekend address: "Ages of experience have taught us that the commitment of a husband and wife to love and to serve one another promotes the welfare of children and the stability of society. Government, by recognizing and protecting marriage, serves the interests of all."
The President was expected to make additional remarks today as the Senate begins three days of hearings on the issue. The statements are largely seen as pandering to Bush's core conservative base in an election year, hoping to distract them from the failed war in Iraq and the wiretapping and corruption scandals that have plagued his administration. The President's wife Laura Bush said recently that same-sex marriage should not be used as a campaign tool: "I don't think it should be used as a campaign tool, obviously. It requires a lot of sensitivity to just talk about the issue – a lot of sensitivity." I guess her husband didn't get that memo, either.
However, Bush's move to reopen the FMA debate in front of VIPS and cameras on Monday is not even sitting well with some conservative groups. Joe Glover, president of the Family Policy Network: "I'm going to go and hear what he says, but we already know it is a ruse. We're not buying it. We're going to go and watch the dog-and-pony show, [but] it's too little, too late."
Over the weekend, hundreds of same-sex marriage supporters held a third annual "Wedding March" as they walked across the Brooklyn Bridge to a rally in lower Manhattan. In San Francisco, activists marched across the Golden Gate Bridge to show their support. New York's Court of Appeals recently took up the same-sex marriage case again and is expected to rule in the coming weeks.
The activist group Soulforce has begun a billboard campaign featuring the words of Coretta Scott King. One of the billboards will be placed in Senator Bill Frist's hometown.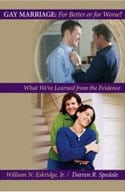 William Eskridge and Darren Spedale published a piece today which attempts to dissect the often-confusing process of getting same-sex marriage laws passed and its deft navigation by politicians looking to get elected. The duo have a book coming out, Gay Marriage: For Better or for Worse
, which is the first book ever to actually look at the existing evidence on the social effects (and other effects) of same-sex marriage as provided by 17 years of practice with same-sex marriage in Scandinavia.
Will the same strategy that helped Bush and the Republicans bring out the vote in 2004 work again two years later? Or will more Americans see through the bigoted diversionary ploy?
Regardless, it can't help but look ugly. Instead of issuing a Gay Pride month proclamation praising the contributions to America of its gay and lesbian citizens, George Bush has chosen to defy our Founding Fathers by proposing allowing discriminatory legislation into the U.S. Constitution, a document that should continue to serve and protect the minority groups of this nation.
UPDATE: Bush's press conference today, courtesy of PageOneQ:
Gay Marriage Ban is Short of Votes in Senate [ny times]
OPINION: Who's Afraid of Gay Marriage? [abc news]
OPINION: Gay Marriage Vote Serves Only to Divide Nation [la times]
Photo source: this great set of patriotic parodies at WhiteHouse.org.