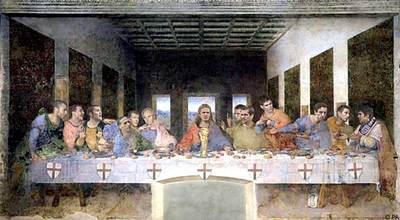 Beckham-mania has reached fever pitch in Britain during the run-up to the World Cup in Germany. Satellite station UKTV recently created this parody of Leonardo da Vinci's The Last Supper featuring England's football team. The painting is said to be filled with hidden messages (see details after the jump).
It's not the first time Beckham has been depicted as a religious icon.
Scholars have pointed out that the footballer cloaks himself in this image:
"Beckham the brand is all about salvation, redemption, even resurrection. It is not me that is saying Beckham is a pseudo Christ-like figure, but it is how he is often portrayed, and it is how he portrays himself."
Today the English team boarded a jet for Germany and the World Cup. When he reached the cockpit, Beckham displayed the English flag featuring the "Cross of St. George" that, according to Wikipedia, "was adopted for the uniform of English soldiers during the military expeditions by European powers to recapture the Holy Land from Muslims" (that might have just a slight bit of resonance today).
It seems many successful marketers know how to work the cross.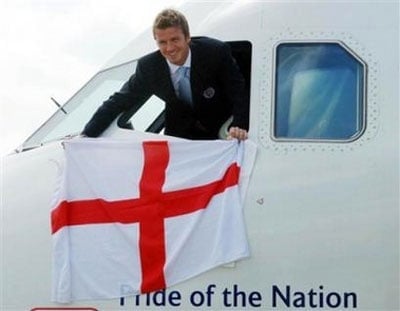 Via the Manchester Evening News, the details of the English team's Last Supper:
"Beckham is separated from his team mates, which could show he is one of the few English players to play abroad. His concentration could also show how the England captain has realised the tournament, which starts in Germany this week, could be his last World Cup.
England coach Sven Goran-Eriksson is shown as Mary Magdalene.
The Da Vinci Code film, inspired by Dan Brown's novel, suggests that Jesus and Mary Magdalene had a child and the bloodline survives to this day.
And the England coach is seated next to his successor Steve McClaren, who is rudely blowing a raspberry in the Swede's ear.
Liverpool midfielder Steven Gerrard appears to be having a row with Manchester United defender Gary Neville, possibly about who should be next to succeed Beckham as captain or just renewing traditional Liverpool – Manchester rivalries.
Meanwhile, Wayne Rooney is making a rude gesture to Beckham, possibly a reference to the argument they had at the Northern Ireland game."