Bleu Copas, a decorated Sergeant and linguist in the U.S. Army, was recently discharged under "Don't Ask, Don't Tell" after his superiors in the 82nd Airborne received a series of anonymous emails from someone that Copas suspects "he mistakenly befriended and apparently slighted." The accuser still has not been identified. If you'll recall, the 82nd Airborne was the unit hit by the gay porn charges. Maybe that's why they're so paranoid.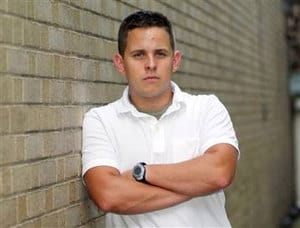 To make his dismissal even more egregious, Copas says he never admitted to being gay, and his superiors asked him directly if he was gay, directly violating the "Don't Ask, Don't Tell" policy.
The accuser, who signed his e-mails "John Smith" or "ftbraggman," pressed Copas' superiors to take action against him or "I will inform your entire battalion of the information that I gave you."

On Dec. 2, investigators formally interviewed Copas and asked if he understood the military's policy on homosexuals, if he had any close acquaintances who were gay, and if he was involved in community theater. He answered affirmatively.

But Copas declined to answer when they asked, "Have you ever engaged in homosexual activity or conduct?" He refused to answer 19 of 47 questions before he asked for a lawyer and the interrogation stopped.

Copas said he accepted the honorable discharge to end the ordeal, to avoid lying about his sexuality and risking a perjury charge, and to keep friends from being targeted.

"It is unfair. It is unjust," he said. "Even with the policy we have, it should never have happened."
That "community theater" admission must have been the kicker. I'm sure the next question was, "have you ever aspired to be a hairdresser?" Copas is taking his case to the Army Board for Correction of Military Records. Best of luck.
Army dismisses gay Arabic linguist 'outed' by e-mail [msnbc]
You may have missed…
Pentagon Document Lists Homosexuality as Mental Disorder [tr]
Gay Soldier Awarded Purple Heart in Iraq Speaks Out [tr]
Supreme Court Rules on Solomon Amendment [tr]
82nd Airborne Gay Porn Ringleader Faces Court [tr]