Some interesting twists are showing up in the controversial and much-hyped video game from Rockstar, Bully
.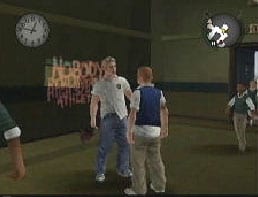 The game, while widely forecast to be overly violent by industry pundits, instead gets a rave for creativity from the San Francisco Chronicle. Here's the premise: "You play tough kid Jimmy Hopkins, who enters Bullworth Academy as a last resort after numerous expulsions from better places. Bullworth turns out to be a totalitarian state, where the jocks, bullies and teachers rule with no mercy, and the nerds live in fear. Will Jimmy emerge as their leader and hero?"
But gay gamers have discovered an additional facet to the game that reveals its creators may have thought about the latent homosexual tendencies of those who bully more than you thought.
Alexander Sliwinski wrote about the twist for Joystiq, a gaming site, and notes that "Bully hero Jimmy Hopkins is bisexual, or just experimenting, based on videos starting to surface."
The game was just released last Tuesday, and since I haven't had a chance to see it in person, I asked Sliwinski to explain a bit: "Bully is actually a satire of prep school, like Grand Theft Auto is a satire on the decade it takes place in. The main character is Jimmy Hopkins and he is not a bully, he actually fights them. Well, not fight. He's mostly just trying to get by. Each clique at the school has a boy that can be kissed, but this isn't confirmed yet. To get them to kiss you give them a present. I don't know if each one requires something different, but from the video you can see that Trent, from the bully clique, takes flowers."
They always say the most virulent bullies are using violence to mask something in their own character. Apparently that theory hasn't been lost on Rockstar.
Video Proof: Bully's Jimmy Hopkins Likes To Kiss Boys! [gay gamer]
Boy on boy kissing in Bully [joystiq]