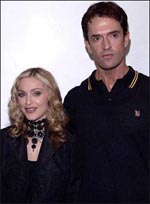 Rupert Everett will be the godfather to Madonna's adopted Malawian child David Banda, Brit tabloid The Sun reported today:
"Madonna picked Rupert, 47, because of his experience of working in Africa with AIDS victims. The move is a sign that Madonna and hubby Guy Ritchie are confident the adoption will be approved. A close source said: "Madonna and Rupert have been pals for years and he is one of her closest friends. But more than that her trip to Africa was partly inspired by Rupert's work out there. 'She knows he spends a lot of time in the country through his work with AIDS charities and that he knows the country well. She feels he knows the culture well and would be a great help to David as he grows up.'"
You can be sure that child will be well-versed in how to deal with demanding divas (a skill that might be useful in Madonna's household) and never get any Starbucks.
Madonna is set to appear on Oprah today to talk about the adoption. The show will air Wednesday.