How does a party that can attribute much of its success in the last elections to an anti-gay agenda come to terms with the fact that many of its top politicians are gay? How does the public face of Republican leadership differ from its private face?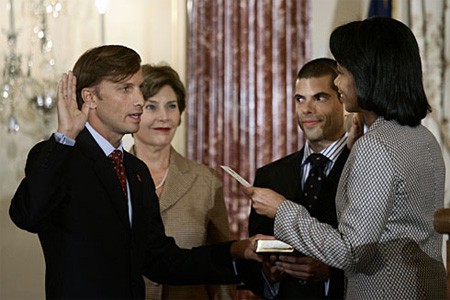 That's the complex question asked by this article in USA Today which features a recent moment orchestrated by Secretary of State Condoleezza Rice and First Lady Laura Bush in which Rice referred to the mother of Mark Dybul's partner Jason Claire as Dybul's "mother-in-law". Dybul is America's new Global AIDS Coordinator.
How can members of the Bush administration facilitate the shoving of anti-gay marriage laws down the nation's throats and then boldly refer to Claire's mother as Dybul's mother-in-law?
To USA Today it was a "celebratory moment". To others it looked like a bold, pro-gay act of tolerance. While the manner in which she delivered it probably matters quite a bit in this situation, to me it just seems unbelievable (given the Republican agenda) that Rice could have stood there and said that with a straight face.
Page scandal exposes GOP's gay identity crisis [usa today]